CINCIA's new report about the rainforest devastation wrought by artisanal-scale gold mining has made the center's mission more urgent: Rainforest loss from mining is 21 percent more than previously reported – and most of the vibrant forests lost have been decimated in the past five years.
CINCIA's supporters, along with its partners in the Peruvian government, are rushing to find a balance between supporting an economic driver in a developing nation and safeguarding the forest and the people of Madre de Dios – all before the damage is irreversible.
El nuevo informe de CINCIA sobre la devastación del bosque tropical causada por la extracción artesanal de oro ha hecho que la misión del centro se intensifique. La pérdida de bosques lluviosos a causa de la minería es un 30 por ciento más de lo que se había registrado anteriormente, y la mayoría de los bosques que se han perdido han sido diezmados en los últimos cinco años.
Los miembros de CINCIA, junto con sus socios del gobierno peruano, intentan encontrar un equilibrio entre el apoyo a un motor económico en un país en desarrollo, y la protección del bosque y del pueblo de Madre de Dios. Y todo esto, antes de que el daño sea irreversible.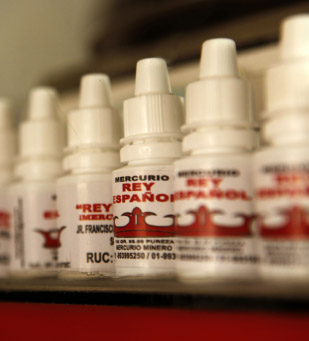 ABOVE: Bottles of mercury, toxic and used to extract gold, await shoppers in Madre de Dios.
ARRIBA: Botellas de mercurio, tóxicas y utilizadas para extraer oro, esperan por compradores en Madre de Dios.
Miners in Madre de Dios aren't looking for large deposits of ore; those disappeared as the mountains eroded over thousands of years. Instead, they use water cannons to blast apart river banks and use toxic mercury to pull tiny flakes of gold out of the sediment sludge. After dumping the mercury-laced tailings, the mercury contamination spreads its tentacles in many ways. It settles into the soils left behind, potentially poisoning any plant or animal that tries to repopulate these destroyed lands. It escapes into the air, threatening anything that breathes the invisible vapor. It gets trapped in the network of sludgy, bluish ponds left behind by mining operations. It taints the water traveling in the rivers and poisons the aquatic food chain. It contaminates the fish, which could end up in the nets of indigenous fishermen. That fish becomes dinner – dispersing the toxic mercury to humans up to hundreds of miles away.
Previous studies by Fernandez have found that 75 percent of the residents of Madre de Dios – and 65 percent of the children – have levels of mercury in their bodies above safety standards established by the U.S. Environmental Protection Agency. Mercury is a powerful neurotoxin; it targets the central nervous system and can hamper learning, memory and motor skills.
"Mercury can cripple this region's future," Fernandez said. "It hasn't reached an acute level yet, but it's at a chronic level."
The single-largest source of mercury pollution, not only in Peru but also around the globe, is gold mining.
Los mineros de Madre de Dios no buscan grandes yacimientos minerales, los cuales desaparecieron a medida que las montañas fueron erosionando desde hace miles de años. En su lugar, utilizan cañones de agua para bombardear las orillas de los ríos y mercurio tóxico para extraer diminutas partículas de oro de los sedimentos de lodo. Después de desechar los residuos con mercurio, la contaminación por mercurio comienza a propagarse de distintas maneras. Esta contaminación se asienta en los suelos que quedan, envenenando potencialmente cualquier planta o animal que intente repoblar estas destruidas tierras. Se escapa hacia el aire amenazando a cualquiera que respire su vapor. Queda atrapada en la red de estanques azulados y fangosos que dejan las operaciones mineras, contaminando el agua, recorriendo los ríos e infiltrándose en la cadena alimenticia de peces que podrían terminar en las redes de los pescadores indígenas y convertirse en alimento. De esta manera, el veneno se dispersa hasta llegar a seres humanos que se encuentran a cientos de kilómetros de distancia.
Estudios previos realizados por Fernández han demostrado que el 75 por ciento de los residentes de Madre de Dios y el 65 por ciento de sus menores tienen mercurio en sus cuerpos a niveles superiores a los estándares de seguridad establecidos por la Agencia de Protección Ambiental de los Estados Unidos. El mercurio es una potente neurotoxina que entra en el sistema nervioso central afectando el aprendizaje, la memoria y las habilidades motoras.
"El mercurio puede paralizar el futuro de esta región", expresó Fernández. "Aún no ha alcanzado un nivel agudo, pero el nivel actual es crónico". La fuente más grande de contaminación por mercurio, no solo en Perú sino también en todo el mundo, es la minería de oro.