You Did What?
Sometimes the best traditions are the ones we create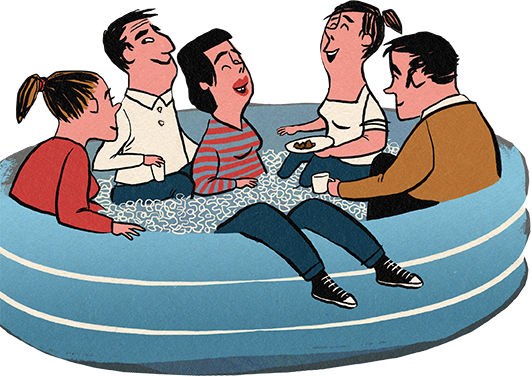 Wake Forest is steeped in traditional traditions. But students doing their own thing is a tradition that will never go away. And when it comes to the weird and the wonderful, there's no place like The Forest.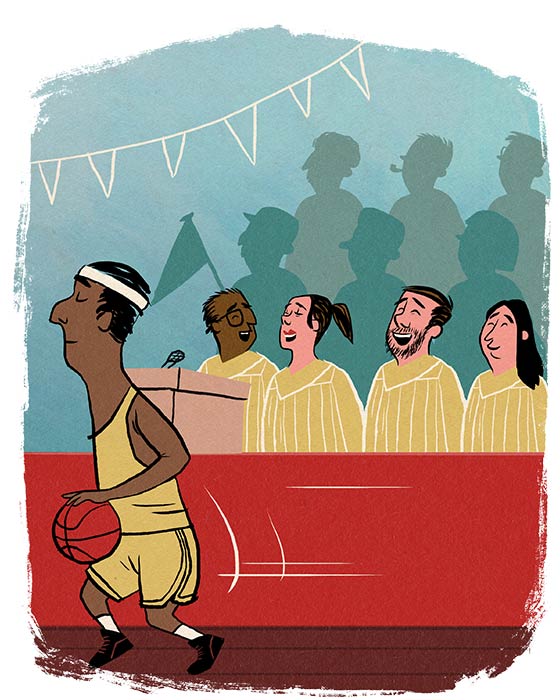 Join "The Congregation"
It's what you do when
your mascot is the Deacon
Wearing gold choir robes and calling themselves "The Congregation," a group of Wake Forest seniors gets high praise for their unique way of showing some Deacon spirit at the Joel. The story goes that when a local church decided to throw out some old robes, it presented a golden opportunity for Marty Galloway ('06), Matt Imboden ('06) and their buddies to make a colorful statement in the stands. "The Congregation" was loud and inspiring, and they lifted the spirits of fellow fans and the Demon Deacon basketball team throughout the entire season. The group was also known to preach a little fire and brimstone to opposing players (and sometimes the refs) over an intimidating cardboard pulpit. Can I get an "amen"?
Regulars in "The Congregation": Marty Galloway ('06), Matt Imboden ('06), Brett Harris ('06), Dustin Frye ('06), Joe Martinez ('06), Matt Butterworth ('08), Joel Stubblefield, Clayton Bauer ('07), Pat Casey ('06), Alex Norton ('06), Evan Smith ('06), Annie Young Combs ('06), Megan Figueroa ('06, MBA '17), Bryant Tran ('06, MD '10) and Jen Chu ('06)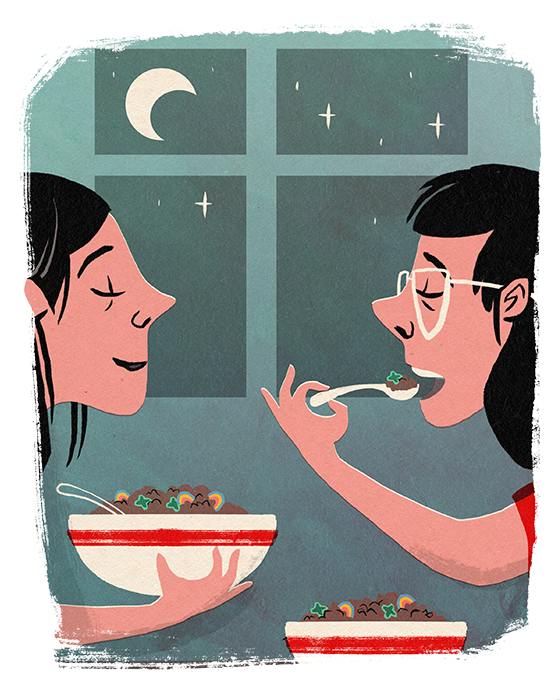 Nosh on Midnight Cereal in the pit
Because nothing relieves stress
like Lucky Charms
How did a group of friends survive the anxiety and stress of exam week every semester? They commiserated over Reese's Puffs and Lucky Charms during late night get-togethers in the Pit. For the group from Johnson 1A – Sarah Martin ('15, MD '20), Hannah Breden ('15) and several other exam sufferers – the "midnight cereal" tradition started freshman year and lasted through their final term before graduation. And apparently, their approach for surviving exam week worked well. After reviewing the group's coping strategy, which involved at least eight midnight gatherings in the Pit and more than a dozen boxes of Reese's Puffs, wellbeing experts agree: There is no better stress reliever than the company of good friends and a self-induced sugar coma.
Regulars at Midnight Cereal: Sarah Martin ('15, MD '20), Hannah Breden ('15), Candace Caughron ('15), Olivia Whitener Houwen ('15) and Briana Brewer ('15)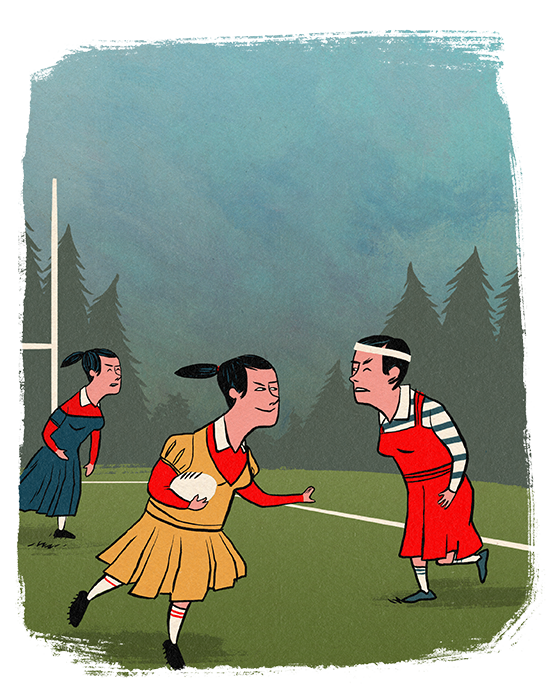 Challenge Your Rivals to Prom Dress Rugby
And hope their fullback isn't
wearing the same hot pink taffeta
Perhaps they did it because nothing is quite as intimidating as a blind-side flanker in a gold tea length dress. Or maybe the idea was to counterbalance the team's athletic ferocity with some feminine flair. Whatever the reason, the result was hilarious when Courtney Flynn ('14) and her teammates on the Wake Forest Women's Rugby squad took on Guilford College in an unforgettable match of Prom Dress Rugby. Going formal on the rugby field resurrected a tradition started a couple years earlier, and the interesting fashion choices (purchased mostly at local consignment shops) resulted in a featured photo spread in Vogue. (Not really.)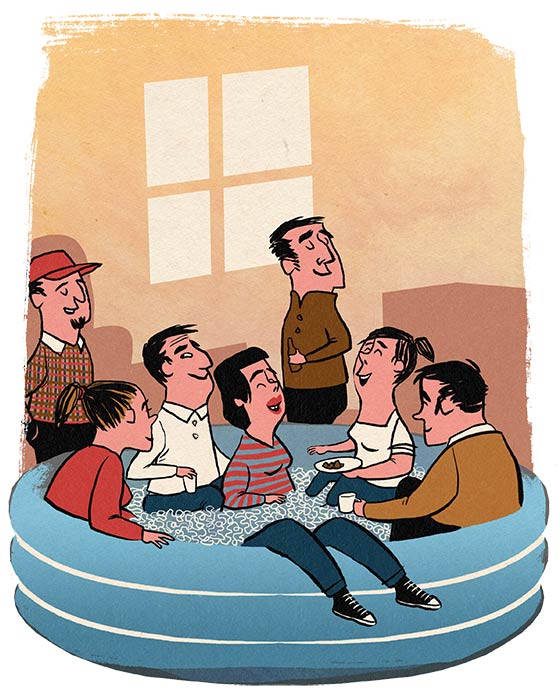 Host Sunday Pool Parties
The weather is always perfect...
inside your apartment
What started out as a creative solution to a seating shortage turned into a Sunday tradition for Carrie Dajani ('14) and her friends at Deacon's Station. When two of Dajani's roommates came home from Target with an inflatable kiddie pool they found on clearance, the first challenge for the Wake Forest seniors was inflating it. Following what must have been an interesting visit to the air pump at a local gas station, the group managed to strap the inflated pool to the roof of their compact and haul it home. That's when the fun – and the tradition – started. Piling it high with blankets and pillows, they had their first official "pool party." And the possibilities were endless. Just as roomy as any sofa and definitely more flexible, the pool provided semi-comfortable seating for up to nine of their closest friends. Add a few tubs of popcorn from the Carmike Cinema and a pop-up home projector, and Sunday movie night was born. But maybe what the pool needed most was a full-time lifeguard. The roomies once returned to their apartment after a break to find the pool filled with cooked pasta, compliments of the guys across the street. Dajani suspects their old apartment stills smell like spaghetti.
Roommates: Carrie Dajani ('14), Kelly Engle ('13), Emy Gruppo ('14) and Christina Gestal ('14)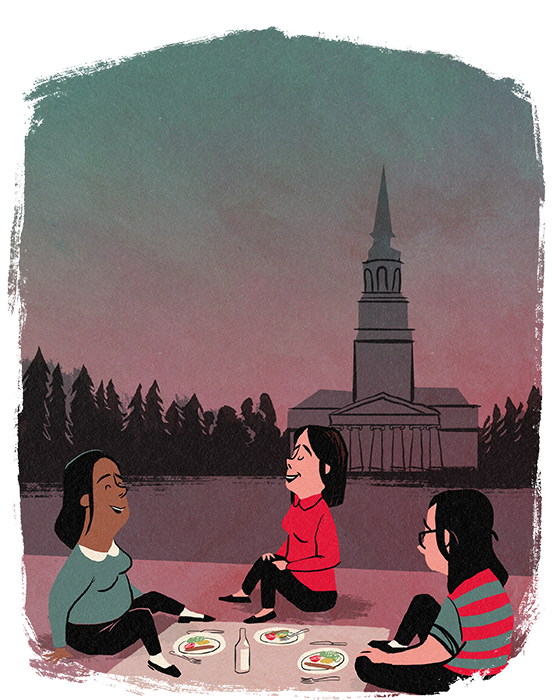 Have a Sunset Picnic on the Quad
Say goodbye to campus while the
sun sets behind Wait Chapel
The Quad. It's where you begin your Wake Forest journey with New Student Orientation, and where your undergraduate days conclude with Commencement. In the years in between, it's the site of Frisbee games, snowball fights and Hit the Bricks. It's the place where you chat between classes, catch up with old friends or just sit and relax. It's also the natural setting for a picnic on your last night together on campus. Launching a tradition that they plan to continue for years to come, Annie Wheat ('17, MAM '18) and her senior year housemates grabbed some takeout from the Porch (their favorite Winston-Salem restaurant), a bottle of wine and a blanket and settled in to watch the sun go down behind Wait Chapel. It was the perfect way to say farewell to campus. And each other. For now.
Sunset Diners: Annie Wheat ('17, MAM '18), Anne-Levert Lederer ('17), Sara Greene ('17) and Franny Blanchard ('17)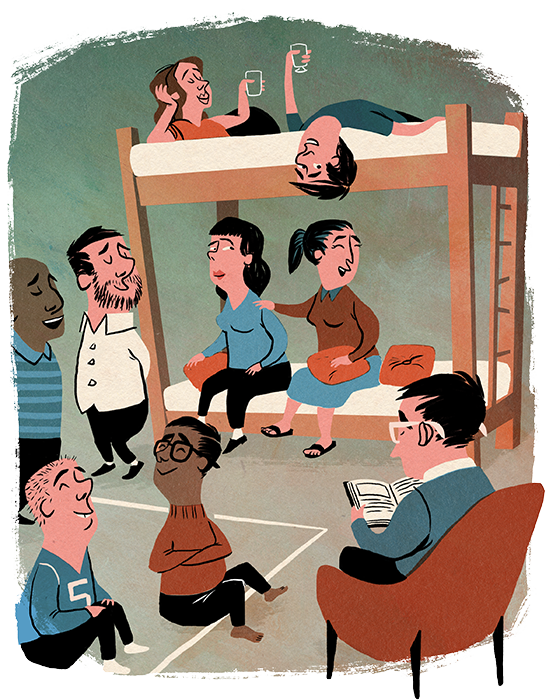 Pack them in for Story Time
The sun did not shine.
It was too wet to play.
So we sat inside Davis.
On that cold, cold wet day.
Oh, the places you'll go when you and countless friends pack yourselves together like sardines in a dorm room the size of Horton's Whoville to listen to – what else? – a little Dr. Seuss. In an era before cell phones and Netflix, freshman roommates Lorri Ellen Henry Campbell ('94) and Karen Clark Upchurch ('94) would cram lots and lots of friends in their tiny Davis dorm room for a lighthearted children's story. Afterward, the crowd would hang out for hours talking, laughing and enjoying each other's company. Res Hall Story Time, which continued through the years in dorm room after dorm room, became a one-of-a-kind tradition the group will always cherish. "Such great memories. Such great friends," recalls Campbell. But as Dr. S himself famously said, "Don't cry because it's over. Smile because it happened."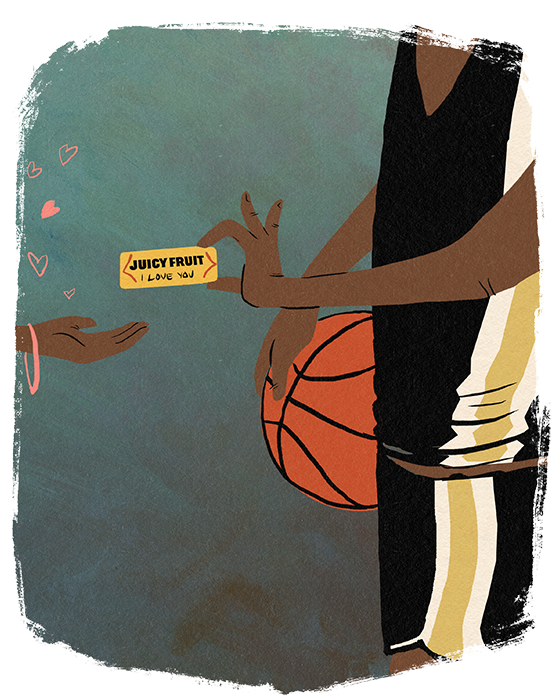 Say it with Juicy Fruit
Chew on this
unique tradition for a while
Not many things are sweeter than a stick of Juicy Fruit - unless you add some sugar by jotting a love note on the wrapper. It was a game day ritual for Wake Forest basketball player Leroy H. McDonald ('80) to write sweet nothings on a gum wrapper for his girlfriend before the tip-off. Theirs was a tradition that, well, stuck.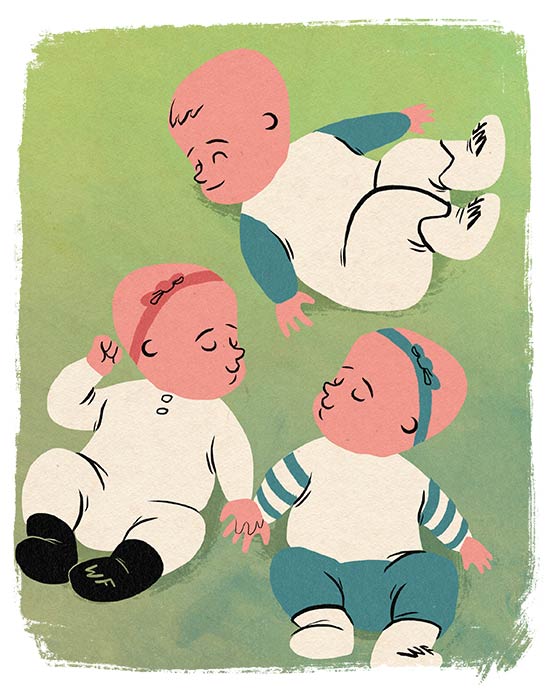 Oh, Baby!
Start them off on the right foot
with WFU booties
If your husband's a Double Deacon as well as an adjunct professor in the Wake Forest Law School, what better way to tell him you're pregnant than to wrap up some adorable WFU baby booties and leave the rest to his brilliant deductive reasoning? Again. And again. Three Pocock babies have made their journey home from the hospital wearing the same little socks that announced their soon-to-come entrance into the world, and now each pair of booties is framed and proudly displayed in the home of Lynn and Don Pocock ('97, JD '00). The Pococks' sweet tradition is almost as adorable as the WFU booties. Almost.
The Pocock children are Norie (8), Miller (7) and Oliver (3 months).